Quebec, June 2018, Camping fully equipped Land Cruiser
We had never heard of self drive in Africa before coming to the Tawana Self Drive website.
Then we decided to go to Botswana and to camp for the very first time on a rooftop tent. Since we were at last minute, no camping was available. So we made contact with Julie and Vincent to help us.
Quickly, they managed to find campsites always available for us. As we are from Canada it was difficult to communicate with locals. Julie and Vincent facilitated this communication, they helped us get the 4×4 and finalize our itinerary. Several exchanges took place before finalizing everything. What a patience :-)
Here is our 4X4, we greatly appreciated its comfort and robustness and felt very confident.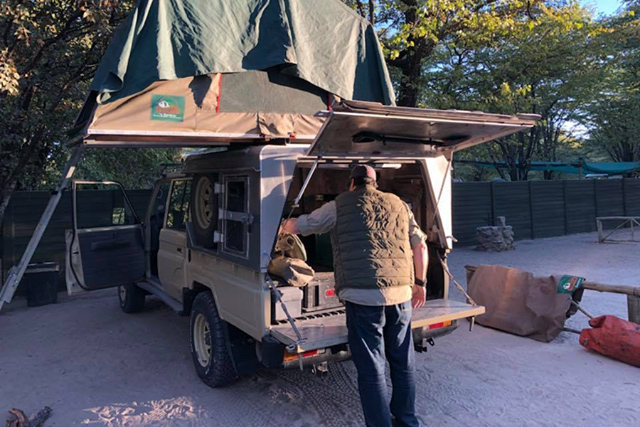 We spent 13 days in Botswana, this experience is one of the most extraordinary we have ever experienced.
We started our trip in Maun, heading to Kasane passing through several parks to go back to Maun and finishing in Cape Town.
In northern Botswana, we had a crush on Senyati and spent a lot of time watching elephants at the waterhole. We liked it so much that we went back the next day. Go ahead, you will not regret it!
In Kasane, we had the chance to meet Vincent! What an amazing meeting! We had a little hook on the windshield of the vehicle and he recommended a person to do the repair. He even came with us to make sure we were going to find him! What a service!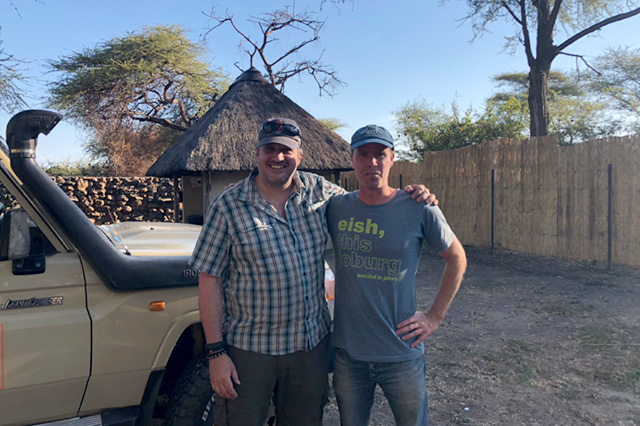 Subsequently, Julie and Vincent offered us the Thobolos Bush Camp. The owners are welcoming, the service was impeccable and we were lucky to see a wild dog chasing an impala! Fun but not fun! In the end, the impala is doing!
After several days camping, we stayed in the excellent Camp Xakanaxa lodge, located in the Moremi Game Reserve in the Okavango Delta. We highly recommend it to all. Our guide (Zak) took us to the place we needed to see the big cats, which we had not had the chance to meet until now. The staff is attentive and very smiling! We were treated like kings! The food is excellent! You have to live this once in your life!
In conclusion, be certain that we experience self drive trip again and go to Namibia soon! We had the chance to travel to many places around the world and the Botswana self drive experience is currently at the top of the list. Go ahead, you will not regret it!
Do not wait too long because life is going too fast :-)