Hire a fully equipped 4×4: Toyota Hilux
4WD vehicles
Toyota Hilux
Flexibility, autonomy and comfort: hire the perfect fully equipped 4×4 for family trips and/or on moderately difficult tracks
The Toyota Hilux is the most widely used 4×4 in the bush thanks to its flexibility and its driving range.
Easy to handle, first timers will be reassured and experienced selfdrivers will enjoy this reference vehicle.
The Hilux is suitable for any kind of trip, from the short one to the long one, on the roads or on the tracks. Families and group of friends will be made comfortable.
Seats up to 5 if car only, 4 if fully equipped
5 large suitcases if non equipped, 5 meduim suitcases when equipped
Very good whatever the conditions
Long term rental only (starting from 5 days)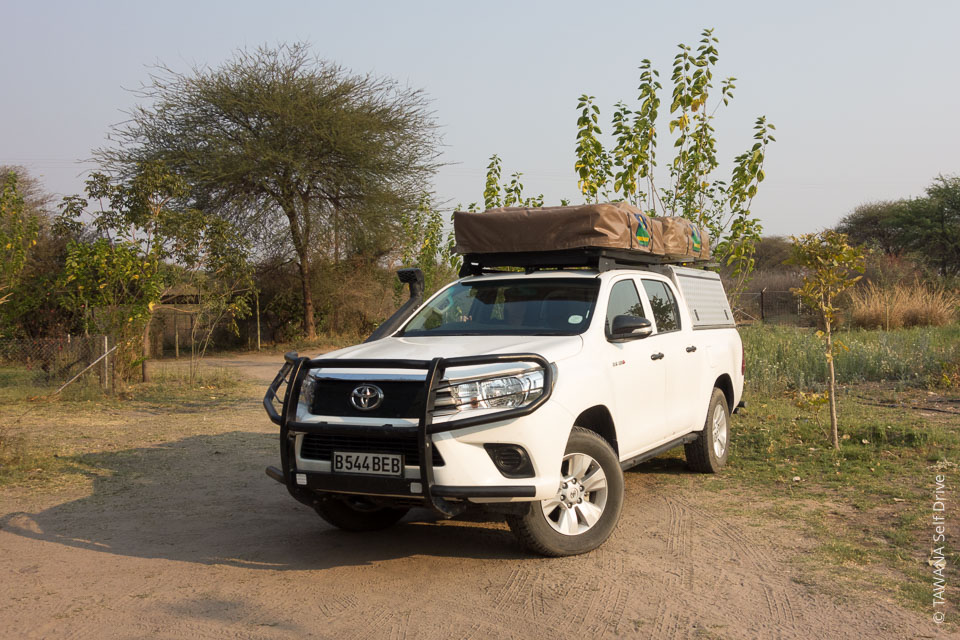 Specifications
Model: Toyota Hilux
Type: Single Cab or Double Cab
Mode: 4×4
Engine: 2.4 or 2.5 L
Fuel: Diesel
Fuel capacity: 150 L
Transmission: Manual / Automatic
Length: 5100 mm
Width: 1650 mm
Height: 1800 mm
Power steering: Yes
Fuel consumption: 9 L / 100 km
The fully equipped Hilux come with 1 or 2 roof tents (optional ground tents on demand), a refrigerator, a water tank, a gas bottle, a complete camping and kitchen equipment and all the recovery tools you need for a safe travel.
The Bushcamper option is now available on Hilux, offering an easy camp setup with the pop-up tent system. This configuration sleeps up to 2 adults and 2 kids.
1 x 40L fridge with dedicated battery
2 drawers
1 x 60L water container
GPS with Tracks4Africa
2-4 dinner plates
2-4 soup bowls
2-4 table knifes
2-4 forks
2-4 dessert spoons
2-4 tea spoons
2-4 metal tumblers
2-4 mugs
1 salad bowl
1 chopping knife
1 serving spoons
1 bread knife
1 wood spoon
1 chopping board
1 frying pan
1 cast iron bake pot with lid
Tongs
1 kettle
1 bottle opener / Corkscrew
1 can opener
1 dishcloth
1 satellite phone
1 fire extinguisher
2 warning triangles
2 safety vests
Basic tool kit
2 spare wheels
Bottle jack and wheel spanner
Hi lift Jack
Tyre repair kit
Pressure gauge
Air compressor
Jumper leads
Sand ladders
1 tow rope
1 ratchet tie down
1 first aid kit
1 camping table
2-4 chairs
2 gas bottles
2 cooker heads
1 BBQ grill
1 battery powered lamp
1 torch
1 spade
1 axe
1 basin
1-2 roof top tents
or 1-2 ground tents (if specified)
1-2 mattress
2-4 pillows
2-4 sleeping bags
1-2 fitted sheets
2-4 pillow cases
2-4 towels
We offer fully equipped Hilux in partnership with local 4×4 rental companies. Rates and conditions are subject to change depending the company.